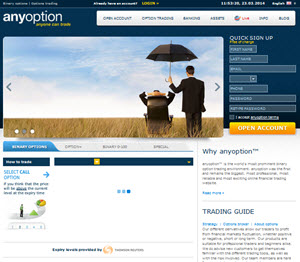 Anyoption is no longer active, visit our brokerage list of other options
Anyoption is a broker of binary options which was founded in 2009 and has its license from the Cyprus Securities Exchange Commission (CySEC). This means that all trading is regulated in accordance with Cypriot law and that anyoption needs no Swedish license to operate in the Swedish market for binary options.
Anyoption is a reliable broker with a stable platform that makes it possible to trade on both your mobile and your computer. The platform is easy to navigate and makes it easy to trade in binary options.
Anyoption is no Swedish website and no Swedish customer service. The English language version of the website is, however, easy to use for anyone with a basic understanding of English. If you do not like English is the platform also in several other languages.
Anyoption offers a wide range of binary options that you can trade with.
Short Info:
Founded: 2009
Headquarters: Cyprus
License: Yes, from the Cyprus Securities Exchange Commission (CySEC).
Mobile commerce: Yes
OS compatibility: Mac, Windows, Mobile, Web, iPhone, iPad
Language: English, French; Spanish, German, Russian, Italian, Arabic, Turkish
Streaming News Feed: Yes
Minimum deposit: US $ 200
Payouts%: Varies. Is often around 70% to 15% cashback.
Bonus
Anyoption does not offer any given bonus but instead gives out bonuses on a case by case basis. This means you need to contact and talk to your account manager before you put any money if you want a bonus. How much bonus you can get and how generous the bonus will be depends largely on how much money you want to put in and how good you are at negotiating. If your account manager does not want to give you the bonus you want, you can always consider choosing another broker or to ask for any other additional benefit instead.
Account & Banking Options
Anyoption has only one type of account you can register for. If you trade a lot, it can then happen to your account manager update your account with special bonuses. Your money is always completely safe with anyoption because all client funds are held separately from the company's own money in a special account.
You get one free withdrawal each month. If you want to withdraw money more often than you have to pay a special fee on each additional outlets,
It is easy to deposit and withdraw money at anyoption. They support a wide variety of banking options such as VISA, MasterCard, Direct Transfer, ACH e-check, cash U, Ukash, ideal, Poli, Santander, La Caixa, Teleingresso, HSBC bank, Skrill (Moneybookers), Abaqoos, Direct24, ESP, Moneta WebMoney, DineroMail
Platform
Anyoption has a good easy to navigate trading platform that works on both Mac and PC, it is very easy to shop in your computer and you do not need to download any software to trade binary options at anyoption.
Anyoption have apps for both the iPhone and Android phones that you can use if you want to trade binary options in mobile. Both apps are well-developed and easy to deal with a large number of binary options. The apps are available for download in the Google Play Store and the iPhone App store. The app for mobile trading is completely free.
Types of options traded
Anyoption offers a wide range of binary options that you can trade with. However, they are no options with short maturity without the "hour of the end" options are the minimum options they offer. You can also buy options that expire during the day, week and month.
An interesting option of anyoption is the option +. These options, you can sell it back to anyoption at any time regardless of how they are going at the moment. You can sell them seconds after you bought them if you wish. The value of the option when you sell it back depends on the underlying objects developed.
One other bit special option Anyoption offers the Binary 0-100. This option has the potential to give you 1000% return.
Anyoption offers a variety of binary options is tied to how Bitcoin evolve These options usually runs to the end of the month and give 50-70% yield.
They also often have special options which should anticipate what companies are valued at at an IPO. Currently offering anyoption this type of options for future launches of King.com and Alibaba on the Nasdaq stock exchange.
Financial instruments
Anyoption supports a growing number of financial experimentation. Currently supported approximately 140 different instruments. One of the most interesting and unusual instruments is that you can buy binary options based on Bitcoin and Bitcoin value against the dollar.
commodities

Currencies

Index

Shares

AUD / USD
Bitcoin / USD
EUR / GBP
EUR / JPY
EUR / USD
GBP / JPY
GBP / USD
NZD / USD
USD / CHF
USD / ILS
USD / JPY

Bombay 30
CAC 40
Cac Future
DAX
DAX Future
Dow Jones
Dubai
FTSE 100
FTSE IT All-Share
FTSE MIB
Hang Seng
IBEX35 (Spain)
IPC (Mexico)
KLSE Future
KOSPI (Seoul)
MDAX
Nasdaq
Nasdaq 100 Fout
Nikkei 225
PSI 20
The S & P 500
S & P Future
SP / ASX200 Sydney
SSE180 (Shanghai)
TecDAX
Tel Aviv 25
TOPIX500 (Tokyo)

AIG
Akbank Turk
Allianz
Amazon
America Movil
ANZ Bank
Apple
Baidu
Banco Santander
Bank of America
Barclays
BBVA
BHP Billiton
British Petroleum
check Point
Cisco Systems
Citigroup
CPIC Group
Daimler AG
Deutsche Bank
DI Corporation
EON
EDF
ExxonMobil
facebook
France Telecom
Gazprom
Generali
Goldcorp
Goldman Sachs
Google
Hyundai HCN
Industrial Bank
Intel
Intesa Sanpaolo
Isbank
JPMorgan Chase
Las Vegas Sands
LG Corp.
McDonald's
Microsoft
Mitsubishi
Morgan Stanley
Noble Energy
Pfizer
Ping An Insurance
Renault
Rosneft
Samsung elec
Sbrebank
silver Wheaton
SINA Corporation
Societe Generale
Telecom Italia
Telefonica
Tesco
Teva
Toyota Motor
Turkcell
Twitter
Unicredit
Vodafone
Walt Disney
Wooridul Life
Support
Anyoption have a knowledgeable customer service that can quickly respond to all questions. Unfortunately no Swedish customer service. Customer service can be contacted by phone and e-mail.
Anyoption does not currently offer a live chat. A great feature is that you can enter their phone number and let anyoption call. This way you do not have to wait on hold.
Customer service can be reached via email at support@anyoption.com and the phone number + 44-2080997262
The customer service is open around the clock between 7 am on Monday morning and 23 o'clock on Friday night. The customer service is closed on weekends.
What do traders
Most traders who shop at anyoption is satisfied with the service they receive and the opportunities that anyoption allows them to earn much money. Most traders also seem to agree that the broker offers knowledgeable support and very good training material for new traders. Among the criticisms leveled at the company is their relatively low payouts (which is to be expected because they offer cashback), the lack of short-term binary options and the lack of live chat. We have also found a number of instances where traders criticizes the fact that not received their money after they tried to take them out. This seems to always be related to that they have not achieved the turnover requirement for accepting a bonus. We would like to remind all readers that always read the fine print and see how many times the bonus must be wagered before they can withdraw their money before accepting a bonus and start trading. When you have begun to act, it is too late to change.
Opinion
Anyoption is one of the best brokers in binary options but suffers from a number of weaknesses, as seen from a Swedish dealer's eyes. Among these are e.g. lack of a Swedish trading platform and customer service. This is usually not a big problem yet give other brokers with a Swedish trading platform such TopOption a clear advantage. If you feel comfortable with dealing in English so, however, all this is less important.
Shopping with anyoption is very easy whether it's mobile or PC. You can easily find the tools you're looking for and it's easy to understand how to trade. Anyoption offers 15% Cash Back when you incorrectly predict the market. This is nice but unfortunately also means that there is often relatively low payouts when you correctly predict market trends. Many binary options at anyoption provides only 69-71% payout. We really like the Option + which allows you to close a position before the maturity date. This gives the trade an extra dimension and make it possible to liquidate positions if you need the money.
Anyoption is a great option for anyone looking for an established and reliable broker of binary options that also offer cashback.